| | | | |
| --- | --- | --- | --- |
| HT 433 | Low 175 | XF 45BN | R-5 |

Gustin & Blake. Chelsea, Vt. 1835. 28.5mm.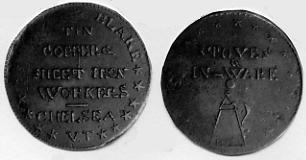 Rev: There are tiny planchet flaws at 4 and 5 o'clock and a larger flaw at 9 o'clock. Gustin & Blake pieces without surface flaws probably do not exist due to the poor quality of metal and striking.
Well centered and struck for the variety. The entire obverse legend and inscription is bold and visible except for "GUSTIN &" which is not visible at all. All 12 stars are visible although the furthest two on the left are faint. On the reverse, the border of stars is complete on the top half, but faint or missing on the bottom half. STOVES is bold, except that the first S is only half there. &/ TIN WARE is also bold except for the T, which is faint. The tea pot at bottom is complete, while the 1835 date at its base is quite faint. The remaining detail is quite sharp, which is remarkable for the merchant. Amazingly, this is probably one of the finest known of this variety. This is probably the crudest of all the Hard Times tokens. A very poor quality of copper was used for this token with the result most planchets appear to have splotches and pitting. Distinguishing between Low 175 (HT 433) and Low 176 (HT 434) is difficult. Refer to lot 318 of the Ford Hard Times Token sale for well struck examples.
Steve Hayden mail bid sale #26, December 9, 2006, lot 604.
Ex. Sara Hinckley Collection of Hard Times Tokens, PCAC, November 11, 2006, lot 90.
Ex. Russell B. Patterson Collection, Bowers & Merena, March 25-26, 1985, lot 1812 ($1,760).
| | | | |
| --- | --- | --- | --- |
| HT 434 | Low 176 | XF Details | R-5 |

Gustin & Blake. Chelsea, Vt. 1835. Retouched reverse. Details...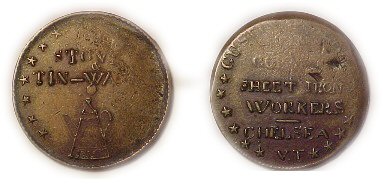 Unevenly struck with right side being very weak. This is a very scarce, crudely made token.
Rev: Dig above IRON.
Ex. Richard Gross Collection.














Copyright © 2004-2006 Alan S. Fisher. All rights reserved.