S.S.B. 1834. Brass. 19.6mm. Details...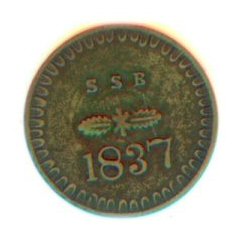 Great example of this very rare piece. Joe Levine thinks SSB might be the initials of a New York inn keeper. Rulau suggests they stand for Scovill's Superior Buttons. This is the only Low token without a firm location.

Ex. Richard Gross Collection.


Dickson, White & Co. (1837-38). Brass. 30mm. Details...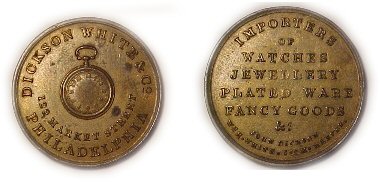 Original color and quite nice. This very rare token is exceptional in this grade.

Obv: Two carbon toning spots.

Rev: Some weakness in strike in center as is usual for this piece.

Ex. Richard Gross Collection.


O&G counterstamp on 1835 Half Cent.

Rev: HALF CENT is weak due to obverse counterstamp indentation, as expected.


Chamberlain, Woodruff & Scranton, Fair Haven Connecticut. (1837). Brass. 30mm.

Slightly porous surfaces. This very scarce token is missing from most advanced collections.

Steve Hayden Mail Bid Sale #21, May 22, 2004, lot 729.

Copyright © 2004 Alan S. Fisher. All rights reserved.