| | | | |
| --- | --- | --- | --- |
| HT 202 | Low 150 | AU 53 BN | R-6 |

J. Gibbs, Manufacturer. Belleville, N.J. Copper. (1841). 28mm. Details...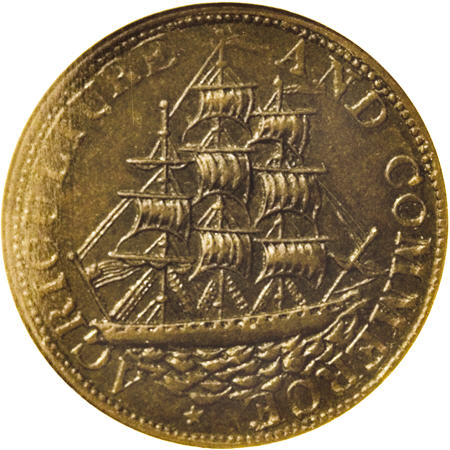 This elusive Hard Times merchant token is vastly superior to the Rulau 9th Edition plate token and has consistent dark mahogany toning. This is possibly the FINEST KNOWN specimen of this variety. Sharply struck in the centers, with only minor softness at the margins. A pair of thin horizontal pinscratches on the central reverse provide the only relevant contact. This rare token hs the reverse design of the Bouquet Sous of Canada. It has the intriguing misspelling of AGRICULTURIST in the legend. The obverse is the same as occurs on Low 66, HT-24.
The Troy Wiseman Collection (Heritage Auction Galleries, September 16, 2006, lot 5907). Ex. The John J. Ford Collection, Part IV (Stack's, June 23, 2004, lot 291).














Copyright © 2004-2009 Alan S. Fisher. All rights reserved.