S.S.B. 1834. Brass. 19.6mm. Details...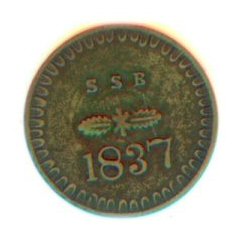 Great example of this very rare piece. Joe Levine thinks SSB might be the initials of a New York inn keeper. Rulau suggests they stand for Scovill's Superior Buttons. This is the only Low token without a firm location.
Ex. Richard Gross Collection.














Copyright © 2004-2006 Alan S. Fisher. All rights reserved.