About 60% silvering remains on obverse, more than 70% on reverse. Pale silver in most areas, otherwise light brassy gold in color. Struck from the perfect reverse die to celebrate the Whig victory in the New York election of 1834.

Rev: Thare are small reverse linear marks which might be mint made. Shallow reverse rim tics at 7:00 positively match this to the Low plate.

Stack's, July 21, 2004, lot 1034.
Ex. Robert Schonwalter Collection (Stacks, January 20-21, 2004, lot 2244.) Noted by Schonwalter as ex Bauer, Dr. Black.


Whig Victory. 1834. Copper. 27mm. Reeded edge. Liberty cap type. DeWitt 1834-2. Details...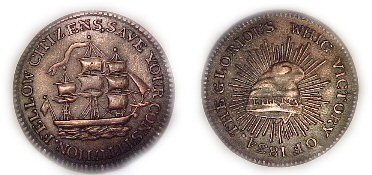 Traces of original red luster and a very strong strike. Undoubtedly the finest known example and the Rulau plate token for this variety. Superior to the Ford specimen sold on June 23, 2004.
Steve Hayden Mail Bid Sale #20, October 18, 2003, Lot 593.
Ex. Roy Harte Collection, Part II (Bowers & Ruddy Galleries, March 27, 1981, lot 1154) where it realized $3,500.
Copyright © 2006 Alan S. Fisher. All rights reserved.