Very lusterous light brown and problem free. Die is beginning to show signs of deterioration through long use. Some rust, very typical for this token.
Slightly (15%) off center, with big die cracks through the lower obverse. Smooth planchet, but has dark areas.
Nearly full gilding remains. Sharply struck and attractive.

Stack's April 15, 1992 sale lot 3641.
Ex John L. Roper II sale (Stack's March 20, 1984, lot 428).


I Take The Responsibility. (1837). Brass. 29mm. Details...

Fully mint state. Pleasing light gold surfaces.

Stack's June 23, 1992 sale lot 33.
Ex Roy Harte Collection, Part II (Bowers & Ruddy Galleries, March 27, 1981 sale, lot 1144).


I Take The Responsibility. Copper. 29mm. This is an inferior copy of Low 51 with no "H" under the safe.

Rev: Some pencil point digs in "VETO" and general weakness of strike in the lettering at the bottom.

Stack's Coin Galleries Nov 9, 1994 sale, Lot 2977.


Half Cent of Pure Copper. 1837. Copper. 23.5mm.

The obverse has an eagle similar to the contemporary silver coinage, while the reverse has a closed wreath. Lovely honey-brown color, with smooth surfaces and moderate softness of strike on eagle's shield.

Heritage Numismatic Auctions, 2003 Long Beach Signature Sale 330, lot 9711.


Martin Van Buren. (1840). Copper. 28mm. DeWitt MVB 1840-6. Unsigned, but ascribed by McSorley to Frederick B. Smith. Holed as isued. Details...

Rulau plate coin. This token is struck from the same dies as the MVB 1840-6 piece. This piece, however, is struck in brass (and thus has a different Low & HT number). Ex. Chet Krause. PCAC Exonumia Auction #74, December 10, 2005, lot 67. Ex. Chet Krause


Martin Van Buren. Brass. 1840. 24mm. Details...

Cleaned one time.

Stack's June 23, 1992 sale lot 38.


Martin Van Buren. Subtreasury and Democracy. MVB 1840-7. Brass. 23mm. Details...

Holed as made. This is one of the finest known of this variety! An elusive issue missing from all but advanced collections.

The Charles Litman Collection, PCAC sale #72, December 6, 2003, lot 47.
Probably Ex. Donald Miller Collection.
| | | | |
| --- | --- | --- | --- |
| HT 77 | Low 162 | VF 30 BN | R-5 |

Martin Van Buren. Independent Treasury. 1840. Copper. 24mm. Details...

Holed as made. A nice, evenly worn specimen.
| | | | |
| --- | --- | --- | --- |
| HT 77B | Low 183B | XF-45 | R-8 |

Martin Van Buren. Independent Treasury. Gilt Copper. Pain edge. 24mm. Holed for suspension as made. MVB 1840-8. Numbers 77, 77A and 77B always occur holed. 77 has either a plain or diagonally reeded edge, while 77A and B have a plain edge. These pieces may not have seen currency use.

Holed as made. Traces of gilding (10%) remain around the rims.

The Robert Schonwalter Collection of U.S. Hard Times Tokens, Stacks, January 20, 2004, lot 2303.
Ex. New Netherlands Coin Company, May 17, 1952. Noted as Bought as L162.


Martin Van Buren. (1836). Grilt Brass. 26mm.

Nice evenly struck and evenly worn piece.

NASCA sale, lot 1354.


Henry Clay. (1840). Copper. 27.4mm.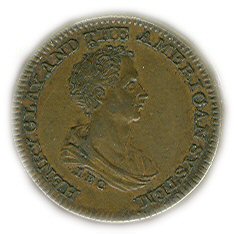 Possibly finest known. Uncirculated with considerable red on both sides.

Rev: "WE" is weakly struck as is common for this variety."

The Litman, Dreyfus & Sullivan Collections (PCAC sale #73, December 4, 2004, lot 26).


Henery Clay. DeWitt HC 1840. Brass. 22mm. By John B. Gardiner. Young draped bust, THE AMERICAN SYSTEM. Rv. Laurel, UNITED/ WE/ STAND.

Sharp strike with golden lustre.

Stack's April 14, 1999 sale lot 2038.

Copyright © 2004-2006 Alan S. Fisher. All rights reserved.